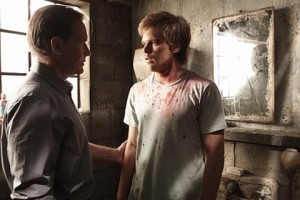 'Dexter' executive producer discusses the fifth-season finale's heartbreak and healing
The genius of this Showtime series and Michael C. Hall's Emmy-nominated performance has always resided in how much viewers love and root for this serial killer. Last season, we were punched in the gut when Dexter discovered his wife murdered in their bathtub. Now, after a season of mourning and grief, again there is pain. But this time, it's arguably more profound.
We've spent five years hoping that Dexter indeed will be able to experience human connection, and to love and be fully loved. And he came so close with Lumen, played spectacularly by Julia Stiles in her first TV role. But the death of Jordan Chase (the strikingly creepy Johnny Lee Miller) brings Lumen closure and a realization that she is not like Dexter and cannot be his life partner. Their goodbye scene was absolutely heartbreaking.