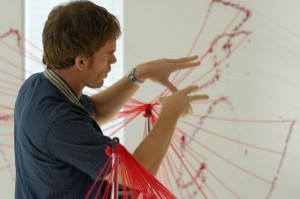 Fascinating article about Dexter and the ethics of taking the law into one's own hands, vs the death penalty, written by Sidra Zaidi.
After more than a decade of putting executions on hold in the state of Illinois, the Illinois General Assembly recently voted in favor of officially banning the death penalty. As constituents wait for Governor Pat Quinn to either sign or veto the bill, discussions abound as to whether capital punishment is legitimate and fair. While it may seem like a stretch, Showtime's most popular series Dexter subtly considers such debates, imparting thought-provoking lessons along the way.
The show tells the story of Dexter Morgan, who has an uncontrollable urge to kill that he vindicates by murdering criminals and vagrants who he believes deserve to die. With airtight DNA evidence on his side, Dexter pursues guilty individuals before the faulty justice system can take action. Morgan is portrayed as a hero, which is why most of the program's viewers are on his side. But can support for Dexter-style justice translate into advocacy for capital punishment?
After all, even calm and cautious Dexter is capable of making mistakes. In the third season, Dexter accidentally kills an innocent person — an error that possibly alludes to the U.S. Justice System's own oversight. Since 1973, 138 wrongfully convicted people in 26 states have been released from death row. Twenty of those freed from execution were held in Illinois. And according to the Northwestern University School of Law's Centre on Wrongful Convictions, there have been 39 cases of capital punishment where there was compelling evidence for appeal or significant uncertainty of guilt. Therefore, if Illinois decides to keep the death penalty, there will always be the slightest chance that an innocent person could be executed, bringing the morality of capital punishment into question — another issue that the Dexter series explores.