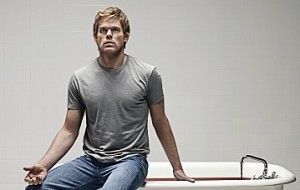 I have to wonder if the change is due to the very mixed reviews of Season 5. That even though the show garnered it's highest viewer ratings ever, they may not be taking any chances. I liked Season 5, I actually think it was the perfect style of storyline that needed to follow Rita's brutal murder and just the right amount of heart that a serial killer needs when his entire world is turned upside down.
In some ways I think the show was a victim of it's own amazing success. Season 4 was pure perfection in every way (thank you John Lithgow). We already knew it would be an almost impossible feat to top that shocking Season 4 finale. Even still, we can easily forgive this past season for only being "really really good".
'Dexter' undergoing show-runner change for season six
"Dexter" may be one of the most active shows on TV right now in terms of getting headlines — which is a bit of a surprise considering that the series itself ended a week ago. According to a new report, Scott Buck (who has been a part of the series since season two) will be replacing Chip Johannessen as the primarily show-runner for season six, which is slated to air next fall. This is the second time in two years that the Michael C. Hall series has underwent such a change.

So why is "Dexter" suddenly becoming a revolving door?