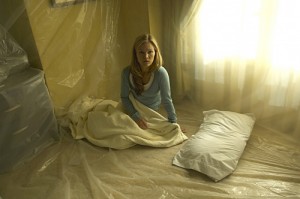 I mean, Julia Stiles didn't breakup Michael C Hall and Jennifer Carpenter!
The Dexter co-starring couple married in 2008, during which time Hall battled and overcame cancer. They have reportedly been separated since August. They officially announced their split a few days ago. Today Carpenter took it to the next level and filed divorce papers. She cited "irreconcilable differences" in the complaint and is asking for spousal support and attorneys fees in the settlement.
It's been rumored that Stiles, who played Lumen on this past season of Dexter, was the cause of the breakup,
Julia made an official announcement.
"I have absolutely nothing to do with the split between Michael and Jennifer. We are good friends and enjoyed working together. This is a personal matter between them, and we should respect their privacy. Although I too prefer to keep my private life private, I felt compelled to dispel the rumors I was somehow the cause for this matter."
I say leave their personal lives alone. My only concern at all is what impact, if any, it will have on the show, considering the closeness of their brother and sister characters. Beyond that, it's their business.