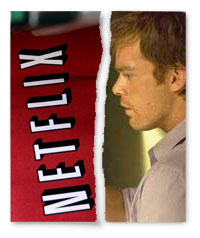 (From all the sources I've read, it appears that Dexter will still be available via Netflix DVD, but will simply no longer be available on their streaming service.)
Netflix & Showtime relationship shows strain over Dexter flap
As the relationship between television networks and studios and Netflix grows increasingly tense, communication is apparently suffering as well.
The latest flap started Tuesday, when Showtime Networks said that as part of a recently completed deal renewal with Netflix that takes effect this summer, it would no longer make original series such as "Dexter" and "Californication" available on the company's Internet streaming service.
Asked to respond midday Wednesday, a Netflix spokesman said that he was not only surprised by the announcement, but that he believed it was incorrect.
"We're perplexed," Netflix spokesman Steve Swasey said. "We're negotiating to renew the Showtime license and we expect these titles will still be available."
By Wednesday afternoon, however, Swasey said the situation had changed. "Netflix may or not renew with Showtime," he wrote in an email. "Titles expire and migrate on and off Netflix as part of the ebb and flow of licensing."
The new statement demonstrates a more assertive public position by Netflix toward Showtime and is the first sign that it would be willing to do without the premium cable channels' original programs.
If Showtime does withdraw its shows this summer, it would be in line with the stance of its parent, CBS Corp. In February, the company struck a $200-million deal to provide to Netflix only older programs no longer on the air. CBS Chief Executive Les Moonves wants viewers to first come to his networks to see the shows the company produces.
New Showtime-Netflix deal excludes 'Dexter,' 'Californication' and other new shows
Showtime Networks is joining those in Hollywood wary of Netflix.
A week after Netflix said it was jumping into the business of original programming, another potential competitor — premium cable channel Showtime — changed the ground rules for dealing with the fast-growing movie and TV show rental service.
Showtime said Tuesday that its newly negotiated deal with Netflix, which takes effect this summer, no longer includes online streaming rights to its currently airing first-run series, such as "Dexter" and "Californication."
When the new agreement kicks in, episodes of those shows will disappear from Netflix and will be offered exclusively on Showtime's online service.
"A number of Showtime original series will continue to be available and stream on Netflix including 'The Tudors' and 'Sleeper Cell,' among others," Showtime said in a statement, referring to programs that have gone off the air.
This is a significant departure from Showtime's current arrangement with Netflix, which expires this summer. Under that pact, the cable channel provided several seasons of "Dexter" and "Californication" to Netflix in an effort to introduce its signature shows to a wider audience.
When TV networks and studios first made deals with Netflix a few years ago, the Los Gatos company was considered an innocuous movie rental service much like the corner Blockbuster store. But now that Netflix has more than 20 million customers and its Internet streaming is more broadly accessible, the television industry is increasingly viewing Netflix as a deep-pocket rival that could eventually supplant cash-cow premium cable channels.
Showtime's chief rival, Time Warner Inc.'s HBO, has been particularly uncooperative, holding back all of its new television shows and movies. The smaller Starz and Epix premium channels, meanwhile, currently provide their movies and original programs, such as "Spartacus."
Showtime decided to clamp down on the rights to its first-run programs in an effort to use them as bait to sign up and retain subscribers. (Showtime doesn't control the rights to its popular series "Weeds," which is owned by Lionsgate.)
CBS Corp.-owned Showtime still sees a role for Netflix — as a digital syndication outlet for older product.  Last month, CBS similarly announced a $200-million deal with Netflix to distribute such classic CBS-owned shows as "Frasier," "Cheers," "Twin Peaks" and "The Twilight Zone."
If people want to watch recent Showtime programs online, they must pay for the channel. "Current and past seasons of our original series will be available to our authenticated subscribers via our TV Everywhere service Showtime Anytime," the company said in a statement.
Asked to comment on the move, a Netflix spokesman said, "We have a great relationship with CBS licensing content from all of its channels, including Showtime, and we continue to negotiate for more movies and shows."