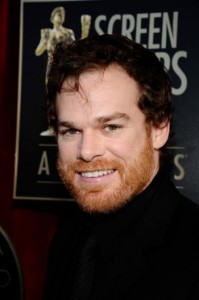 Michael C. Hall – best known as serial killer star of Showtime's "Dexter" but also a stage star in hits such as CHICAGO – has been named as the new ambassador for the Leukemia & Lymphoma Society.
Hall's acting career began in the theater. Off-Broadway, he appeared in Macbeth and Cymbeline at the New York Shakespeare Festival, and in Timon of Athens and Henry V at New York Public Theater, The English Teachers at the Manhattan Class Company (MCC), and the controversial play Corpus Christi at the Manhattan Theatre Club. He also performed in the workshop production of what was then known as Sondheim's Wise Guys, later versions of which were titled Bounce and, finally, Road Show. He sang the role of Paris Singer; this character's songs and function in the play were transferred to the character Hollis Bessamer in the final version of the play. In Los Angeles, he appeared in Skylight at the Mark Taper Forum.
"The Leukemia & Lymphoma Society pours a tremendous amount of money directly into cutting-edge cancer research- research that I've certainly benefited from," Hall said in a statement. The statement goes on to say that successfully treated for Hodgkin lymphoma in 2010, Hall shares his personal experience and encourages people to walk in support of this important cancer fundraiser: "It's an organization that you can be confident is at the forefront of moving things forward."
"We are so grateful for Michael C. Hall's participation in this year's Light The Night fundraiser for The Leukemia & Lymphoma Society," said Nancy L. Klein, LLS's chief marketing and revenue officer. "His empowering message inspires us and strengthens our dedication to help patients live longer, better lives," Klein said.