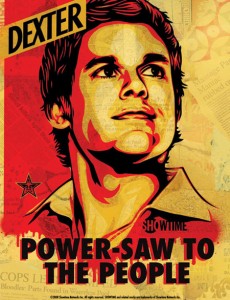 I keep a close eye on my site statistics, and this article is definitely on target. I get many visitors from India, and in fact, many international visitors in general. I believe the morality issue of the show (good bad guy, as noted below) is what makes Dexter popular worldwide.
The Dark Knight
It is the good-bad guys that are ruling television channels these days with Indian viewers ready to embrace them.
THERE is a certain method to Dexter Morgan's madness that makes him one of the most popular characters on television. He is a serial killer, but with his own set of ethics. He is always there for his family and friends, has a respectable job as a blood-sample analyst and yet kills people by night. His schizophrenic existence has made Dexter — both the show and the character — probably one of the most intriguing ones on television in recent years. After its success in the US, India is lapping up this serial killer's moves on Star World in a marathon run of five seasons.
Dexter, however, isn't the only good-bad guy who is making television viewing pleasurable these days. Dr Gregory House from the series House on AXN and Patrick Jane from the drama The Mentalist on Zee Cafe are two other examples. House is a doctor and Jane is an amateur detective, and these professions have always had a certain thrill attached to them. And while House, Jane and Dexter might save the day or give justice at the end of each episode, there is no denying that all three of them are not your friendly, neighbourhood heroes. There's none of Superman's big-heartedness in them, but there is definitely a lot of Batman's cynicism.
Why exactly is it then that shows with such morally-ambiguous protagonists have found such widespread acceptance? Star India's Senior V-P, Saurabh Yagnik says, "Dexter is a very gripping show and raises a question in everyone's mind, 'Is he a sinner or a saviour?' 'Is what he does right and justified? 'And are we right in liking him?'" Reel-life characters like these bridge the gap between fiction and reality, and between the actor and the character — bringing them closer to real life, yet keeping them emotionally unattainable. Rohit Bhandari, senior V-P for AXN India, points out that flawed characters are easier to relate to than 'perfect heroes'. After all, even Superman has his kryptonite. "Saas-bahu shows, with their saccharine overdose, sound too good to be true, but having a do-good hero with some character flaws is something to which a lot of people can relate," he explains.
Actor Suchitra Pillai is one of the avid viewers of such shows. She watched all the seasons of Dexter before they started airing in India, and finds the vices in the protagonist to be the main draw. "Even though the protagonist is a villain, you want to find out what he does next because of this mysterious air around him. What he's doing may not be right, but you still want to side with him because somehow you know he doesn't mean harm," she says.
Like Dexter, House has an acerbic wit and is enigmatic. "His team barely tolerates him. But because of his genius deductions, you are willing to overlook his vices," says popular TV host Meiyang Chang about Dr House. The same can be said about Dr Lightman of Lie To Me, which was recently aired on Star World. Adman Prahlad Kakar looks at these men as riddles that the audience is having fun solving. "Most of these protagonists are self-absorbed and eccentric, but they are allowed to be that way." And this is probably what we envy.
The trend of the maladjusted male protagonists, with a troubled or secretive past is not new. Shows such as 24, Monk, Californication and The X-Files have often shown charming protagonists sharing a love-hate relationship with the cast members while dealing with a secretive past. Dr Nimesh Desai, director of Institute of Human Behaviour and Allied Sciences, New Delhi, calls them "geniuses with a fatal flaw". He says, "With high intelligence, there is always a tendency to do something different, as in the case of Dr House or Patrick Jane. These urges are not always compatible with their daily routine, and therefore they become frustrated or annoyed with a set norm, or come up with completely bizarre methods to reach different conclusions." It's these bizarre solutions that the writers play on to produce material that will set these shows apart from the rest. After all, a big reason for their popularity is simply the fact that no hero before this has had such an abiding hatred for humankind, as does House or who has taken to extreme vigiliantism to make the world a better place, like Dexter does.
But in India — where to this day popular cinema heroes are perfect sons, brothers, lovers and citizens — will these anti-heroes leave a mark? Although many feel shows like these are too graphic for Indians and might have a mixed response, Yagnik is positive. "Our viewers have always responded well to crime shows. And unique shows with crime as the backdrop will definitely do well."