Earth Day 2011
Dexter cares about the environment! Okay, maybe not, but Michael C Hall certainly does. Michael, in celebration of Earth Day, is featured in a promo picture for Kiehl's new "Michael C. Hall Limited Edition Rare Earth Pore Cleansing Masque."
From Kiehls.com:
In honor of Earth Day, we are pleased to announce a Limited Edition Label Art series, where 100% of net proceeds will benefit the WATERKEEPER ALLIANCE, a charity long supported by Kiehl's for the past 30 years.
Our Rare Earth masque helps purify and detoxify skin while minimizing the appearance of enlarged pores. Formulated with Amazonian White Clay to gently draw out oil, dirt and toxins that can clog pores. The addition of Oatmeal and Aloe Vera will help soothe, hydrate and protect sensitive skin.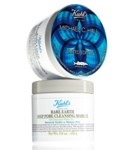 The Earth Day celebration got an early start in Santa Monica yesterday. Actors Michael C. Hall, Mario Lopez and Chloë Sevigny appeared at the store's Montana Ave. location from 7 to 9 p.m., during which time a new deep-pore cleansing masque was unveiled.
All proceeds from sales of the masque go to the Waterkeeper Alliance founded by Robert F. Kennedy Jr.
Check out Michael arriving at the event in Santa Monica, as he signs an autograph for a fan.
httpv://www.youtube.com/watch?v=2HTrW1kX-q4&feature=youtube_gdata
Happy Earth Day!