Otherwise known as the Really Really Big Michael C Hall Post
Michael C Hall is best known (on this site anyway!) as Dexter Morgan on Showtime's hit TV show, Dexter. He does a wonderful job bringing the very multi-faceted and fascinating character to life.
He does such a good job, that sometimes it's difficult to separate Michael C Hall, the real person, with his Showtime character.
However, there is much more to Michael C Hall than just his role as the mysterious but loveable psychopath.
Whether it's about his other acting endeavors, his personal and family life, his witty quotes, or his brave battle with cancer, there's always something new and interesting to learn about this very talented guy.
Let's take some time to examine the man behind the killing mask.
Michael C Hall Bio
Date of birth: Feb 1, 1971
Birth place: Raleigh, North Carolina
Eye color: Green
Height: 5′ 10½"
Education: Earlham College, Richmond, IN, 1993
New York University, MFA in acting.
Hall attended Ravenscroft School in Raleigh, graduating in 1989. He graduated from Earlham College in 1993 and had planned to become a lawyer. He later attended New York University's Master of Fine Arts program in New York City.
Family
Hall was born in Raleigh, North Carolina. His mother, Janice Styons Hall, is a high school guidance counselor in Wake Forest, and his father, William Carlyle Hall, worked for IBM.[2] Hall grew up an only child, a sister having died in infancy before his birth. He has said of growing up a single child, that "There was a very one-on-one, immediate family relationship, my mom and I". His father died of prostate cancer in 1982, when Hall was 11 years old
"Certainly, for a young boy, there's no good age, but I think I was on the cusp of a time in my life where I was starting to reach puberty, to relate to my father. To have him … Something gets frozen. As you revisit it for the rest of your life, it's sort of this slow but hopefully sure crawling-out of that frozen moment."
Career
Hall, 35, who grew up in Raleigh, N.C., studied theater at New York University. He got his big break on Broadway, replacing Alan Cumming as the emcee in Cabaret, then moved directly to Six Feet, his only previous TV role. (He later co-starred in Broadway's Chicago with wife Amy Spanger, from whom he split earlier this year.)
Michael Carlisle Hall is a North Carolina native and graduate of NYU's Master of Fine Arts program in acting. His most recent performance was on Broadway as the emcee in "Cabaret." Hall has previously starred in nearly a dozen major off-Broadway plays, including "Macbeth" for the New York Shakespeare Festival, "Cymbeline" for the New York Shakespeare Festival at Central Park's Decone Theater, "Timon of Athens" and "Henry V at the Public", "The English Teachers" for Manhattan Class Company, "Corpus Christi" at the Manhattan Theatre Club and "Skylight" at the Mark Taper Forum.
Non-acting careers: Furniture mover for an interior design firm during high school; selling suits for a clothing warehouse.
Movies: Bereft, Paycheck.
TV Shows: Dexter, Six Feet Under.
Other: He narrated Mysteries of the Freemasons (TV documentary)
Stage: Cabaret, Chicago, Macbeth, Cymbeline, Timon of Athens, Henry V.
Big break: Was said to be in "Cabaret."
Random Michael C Hall Facts
He voices a Dodge car commercial

httpv://www.youtube.com/watch?v=PAfNG9nZWGQ&NR=1
Jeff Lindsay didn't originally like Michael C Hall for the role of Dexter

httpv://www.youtube.com/watch?v=I_f7J31960U
Michael shares a birthday with Clark Gable and Brandon Lee.
Michael played a small role in the movie Paycheck.
Michael was chosen as one of People Magazine's Sexiest Men Alive for 2007.
Michael's mother is head of guidance and dean of students at a high school in North Carolina.
For the part of Dexter, Michael read some stuff by FBI profilers on what they know about serial killers. He read some interviews with different serial killers. Spent some time with a blood spatter analyst at the police department in Miami, and got an idea of what he does day in and day out.
After "Six Feet Under" ended, Michael starred as the imaginary friend of a 4-year-old girl in the play "Mr. Marmalade."
Hall played sports in school and sang in school choirs.
Michael C Hall never really considered acting as a career until I moved to New York.
How Julie Benz felt about working with Michael C Hall
"When we did the pilot, I was very nervous… I was beginning to work with my favorite actor. I had to do a lot of relaxation to be on set with Michael… I was such a huge fan of his and just couldn't believe I was cast to play opposite him. I was really waiting for someone to come up to me and say it's all a joke," Benz told me during our interview.
In fact, Benz was such a fan, her ringtone used to be the Six Feet Under theme song, a show which Hall previously starred on.
"When I got cast in the pilot I thought, 'I have to change it because how embarrassing!' Now it's Black Eyed Peas 'Don't Phunk with My Heart.' I still have the Six Feet Under ring for Michael. I did fess up with it. I said, 'Look, I'm a dork, listen to this.' He laughed and thought it was very funny."
Michael C Hall Quotes
"I think anybody would be hard pressed not to relate to at least one of the characters, because there's so many different multifaceted people populating this crazy world."

"On the eventuality of the shows demise and HBO prison-drama connection: "Dexter could get caught and it could turn into a serial-killer 'Oz'."

"When I was doing "Six Feet Under", people would come over and be all sympathetic towards me. Now, they just look terrified and walk away."

"When asked if he has started to receive creepy fan mail as a result of his role on Dexter, he replied: "Not really, I'm sort of sad to say. I'm waiting, I'm here…reach out!"

"I like to think I am well-mannered. If I have the option at a breakfast place, I'll go with the grits. That's how Southern I am."

"I think I had a shyness about me, I think I discovered acting as a way to break out of that and as a way of belonging, a sense of being special."

"People feel like they know me from the work I have done, but it's not me."

"I do think I grew up in an environment in which, in subtle ways, enthusiasm was not necessarily encouraged. There is something wonderful about celebrating who you are, especially if it follows a period where you get everything but that."

"There was always an impulse to perform in one way or another. Most of my experiences performing growing up were doing musicals, singing, being in choirs.. I sang in choirs when I was in college as well. I was a choir geek the first couple of years. Then I became a theater geek. I took an acting class my sophomore year and realized that in terms of my enthusiasm and aptitude, it was definitely the thing."
How he felt about his role on Six Feet Under
Michael C Hall auditioned twice for the part of his Six Feet Under's character "David Fisher" in New York, then had a third and final screen-test day.
David James Fisher is a fictional character played by Michael C. Hall on the HBO television series Six Feet Under. The character is the middle child of three and is a third-generation funeral director. Initially, the character is portrayed as socially conservative (and possibly politically so), dutiful to his family, emotionally repressed and conflicted about his homosexuality. Over the course of the series, he faces struggles and triumphs both personally and professionally.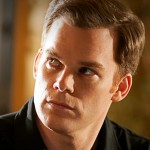 His most significant challenges are related to keeping his funeral home in business, navigating his relationship with Keith Charles, surviving being carjacked, and coping with the death of his father. By the show's end, he reconciles his religious beliefs, personal goals and homosexuality, and he and Keith settle down. They adopt two children: eight-year-old Anthony and twelve-year-old Durrell. The series finale and official HBO website indicate that Keith is murdered in a robbery in 2029, and that David at some point finds companionship with Raoul Martinez, with whom he remains until his death at the age of 75.
Among critics, David Fisher has been cited as the first realistic portrayal of a gay lead male character on television and is popularly regarded as one of the most beloved characters of the series. Michael C. Hall was widely praised for his portrayal of the character, and was nominated for and won major awards as a result.
Six Feet Under – Quotes
"I certainly know there are people in positions of power in the business who lack imagination and, perhaps as a result of that, think of me as 'David'. But I wouldn't really want to work with those people, you know?"

"I don't think closeted homosexual morticians have the market cornered on self-loathing or sense of shame."

"Ultimately, I'm a mess. I don't mean I'm a mess, like, emotionally – I mean, I think probably everybody's a mess. David's a mess. But. I'm talking about… I'm messy."

"In a strange way, playing David during the first season (of Six Feet Under) required me to get in touch with my homophobia. He had such internalized loathing for who he was. I certainly have moved forward in my life, in my own relationship to my self-loathing, by having played David."

"Sometimes people's eyes widen when they find out in one way or another that I'm not gay. All of a sudden, their praise for my performance (in Six Feet Under) gets ratcheted up."
Love life
Michael married Amy Spanger in 2002. They appeared together in the Broadway play Kiss Me, Kate. They divorced after four years of marriage.
On New Years Eve, 2008, Michael wed fellow Dexter co-star, and on screen sister, Jennifer Carpenter.
They secretly married after dating for a year and a half. Family members and friends weren't invited.
On December 18, 2010, Carpenter filed for divorce from Hall. The filing states that the two had been separated since August 2010.
Michael C Hall's Cancer
When Michael learned last year that he had Hodgkin's lymphoma, it wasn't just the diagnosis but the timing that was unnerving. Hall was 38 – just a year younger than his own father was when he died of prostate cancer, when Hall was a child.
It was a bizarre coincidence, made all the more resonant by the fact that Hall had long connected the age 39 to his own feelings of mortality.
"To discover that I had the Hodgkin's was alarming, but at the same time I felt kind of bemused, like: 'Wow. Huh. How interesting.' "
Hall turned 39 this past February. His cancer is in remission, and he feels completely revitalized. If anything, he says, he felt extra energy after the effects of the chemotherapy wore off.
As the fifth season of Dexter premieres this Sunday on Showtime, Hall looks back at his career so far and sees a pattern of playing repressed characters – not just Dexter Morgan but also David Fisher on Six Feet Under. Perhaps, says Hall, that's another legacy from having a father who died young.
"The fact that I've been called upon to play these characters is probably not a complete coincidence," he says. "I have my own repressed people in my life that I've drawn on, and had my own tendency toward repression. Maybe it has to do with not knowing quite what to do with the storm of feelings that accompanied my father's death. Maybe it's a learned behavior."
He adds with a smile: "Now, I'm taking it to the bank."
Notable Michael C Hall interviews
Dexter, in the words of Michael C Hall
Michael discussed his portrayal of Dexter in a 2006 interview.
"I think Dexter is a man who… a part of himself is very much frozen, or arrested in a place that is pre-memory, pre-conscious, pre-verbal. Something very traumatic happened to him, he doesn't know what that is. And I think on some level he wants to know. He denies his humanity, he describes himself as someone who is without feeling, and yet I think that he maybe suspects – in a way that maybe isn't even conscious yet when we first meet him – that he is in fact a human being … Dexter's a unique killer in that his father saw his dark impulses, shined a light on them, and told Dexter that he saw them, he accepted them, that Dexter is good and that he is worthy of love. And I think that's what enables him to focus his energies in this unique way."
How does Michael feel about all that blood and gore?
Q: Dexter is gory. Ever get squeamish?
Nah! If that stuff were actually real, I'd be as squeamish as anybody. But as long as I know it's fake, I'm totally fine.
Q: Is it odd that fans root for a killer?
I'm comfortable with people rooting for me because I make- pretend kill!
Q: After being on Dexter and Six Feet Under, what do you want to do next?
I'd love to do something where I never encounter a dead body!
Michael C Hall – Awards Won
2003 – Screen Actors Guild
Outstanding Performance by an Ensemble in a Drama Series
for: "Six Feet Under"
2004 – Screen Actors Guild
Outstanding Performance by an Ensemble in a Drama Series
for: "Six Feet Under"
2007 – Satellite Awards
Best Actor in a Series, Drama
for: "Dexter"
2007 – Television Critics Association Awards
Individual Achievement in Drama
for: "Dexter"
2007 – Academy of Science Fiction, Fantasy & Horror Films, USA
Best Actor in a Television Program for: "Dexter"
2010 – Golden Globes
Best Performance by an Actor in a Television Series – Drama
for: "Dexter"
2010 – Screen Actors Guild
Outstanding Performance by a Male Actor in a Drama Series
for: "Dexter"
2010 – Monte-Carlo TV Festival -Golden Nymph
Outstanding Actor – Drama Series
for: "Dexter"
Twitter loves Michael C Hall
Other Dexter Fan Sites
Michael C Hall Links
Current Productions
Gamer (2009)
Character: Ken Castle
On R1 DVD & Blu-Ray Instant Play
Peep World (2009)
Character: Jack
Completed, Premiered at TIFF Info
East Fifth Bliss (2010)
Character: Morris Bliss
I will add to this growing Mega Michael C Hall post as time goes on.