Michael C Hall, who plays Dexter Morgan on the Showtime series, steps out to help the environment
Michael C Hall, along with Chloe Sevigny, came out for the Celebration for the Environmental Partnership of Kiehl's Rare Earth Cleansing Masque Benefiting Waterkeeper Alliance. Sevigny and Hall are the faces of Kiehl's Rare Earth Deep Pore Cleansing Masque, and Sevigny herself designed the label for the campaign. Waterkeeper Alliance is an organization dedicated to preserving and protecting water from pollution. Stars like Mario Lopez, Giuliana Rancic, and Kristin Cavallari were also on hand for the celebration.
Michael C Hall, a North Carolina native, said he spent time on the beaches too.
"It instilled in me an appreciation of the environment," Michael C Hall says. "When Kiehl's approached me about the Waterkeeper Alliance, it was a no brainer for me to join in."
The actors designed labels for the brand's Rare Earth Collection to benefit Waterkeeper Alliance.
Earth Day isn't until April 22, but Kiehl's is already doing its part to raise eco-awareness. The beauty brand, which is a favorite of celebs such as Julianne Moore and Entourage's Adrian Genier (both have appeared in Kiehl's ads), unveiled a special limited-edition of its Rare Earth Deep Pore Cleansing Masque with labels designed by Chloe Sevigny (HBO's Big Love) and Michael C Hall (Showtime's Dexter).
Kiehl's will donate 100% of net proceeds of the water-inspired designs to the Waterkeeper Alliance (an organization that works to protect waterways around the world from pollution). The goal is to raise $100,000 for the cause.
The $23 cleansing mask—which will serve double duty for healthy skin and a healthy planet—is made with fair-trade Amazonian White Clay that helps eliminate impurities from the skin. It will be available in Kiehl's stores and online at Kiehls.com beginning May 1.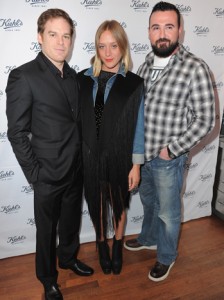 Partygoers piled into Kiehl's in Santa Monica Thursday for an early celebration of Earth Day with Michael C Hall of "Dexter" and Chloë Sevigny of "Big Love" at a benefit for the Waterkeeper Alliance, a global coalition of nearly 200 organizations that work to protect local waterways from pollution.
In honor of the occasion, which falls each year on April 22, Kiehl's U.S.A. President Chris Salgardo handed over a check for $100,000 to Liz Crosson of Santa Monica Baykeeper, the alliance's Los Angeles affiliate. Organizers said the check represented 100% of net proceeds from a new limited edition of Kiehl's cleansing face mask, labeled for Hall and Sevigny.
"Growing up on Long Island Sound, I saw first-hand the garbage rolling up on the beach," said Sevigny. "Now when I'm in Connecticut, I still go with my mother to pick up trash from the beach."
"We're very fortunate at Kiehl's," Salgardo said. "We've always had a lot of good friends who have been very generous to us."
With DJ Paul Sevigny — Chloë's brother — providing the tunes, guests perused the boutique's skin and hair care products and mingled.
Among attendees were Sam Trammell of "True Blood," with his wife Missy Yager, Mario Lopez of "Saved by the Bell," Stephanie Pratt and Kristin Cavallari of "The Hills," Tricia Helfer of "Battlestar Gallactica," Giuliana Rancic of "Fashion Police," Robert Buckley of "Flirting with Forty," Matthew Rhys of "Brothers & Sisters," and Gilles Marini, Season 8 runner-up on "Dancing With the Stars" and also of "Brothers & Sisters."
Michael C Hall will start filming Season 6 of Dexter next month.