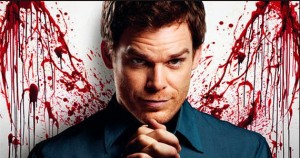 Dexter Blog is back from summer hiatus and ready to rock the fall season with the premiere of Season 6 of Dexter!
I just watched the first episode and I must say this season looks like it's going to be one of THE best.
That eternal question always on the minds of fans, Is Dexter Good or Evil? – is the main spotlight of this season's religiously dark premise. Dexter finds Religion, and in return, religion sure finds Dexter …
It's anything but the normal and conventional spiritual path to enlightenment. There is so much more to say but because this premiere episode hasn't aired yet everywhere, I will save my commentary. I am SO excited!