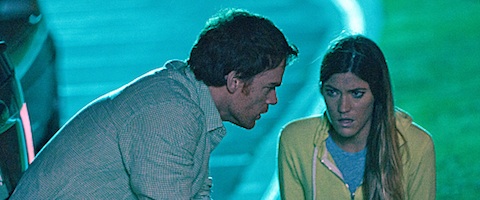 If you're not caught up through Season 6 of Dexter (last season), stop reading now or consider yourself spoiler-warned. As for Season 7, which premieres this Sunday night on Showtime, I've seen the first few episodes, and while I will mention a few things about what's ahead for the serial killer drama, there are no major spoilers. Still, if you don't want to know anything about the premiere, read no further!
When Season 6 left off, Dexter (Michael C. Hall) was plunging a knife into Travis' chest, closing out the Doomsday killer arc with the intention of adding another slide to his box. What he hadn't anticipated was Deb's (Jennifer Carpenter) arrival. She was on her way to tell him she loved him, but she never got around to doing that because when she got to the church, Dexter was mid-kill. The mask was off and Deb saw the Dark Passenger in the flesh. What's next? A lot.
Deb learning that Dexter is a serial killer is a huge thing for the series. From what I understand from the books, this nugget of information is revealed to her much sooner in the story, but the show has taken a different path. For six seasons, we've seen Dexter work hard to keep his dark passenger hidden from Deb and the police. With that blown to hell, at least when it comes to Deb, we're left to wonder where the show will go from there. So far, the series has resumed consistent with the two characters involved. Dexter is Dexter and Deb is Deb. He's a serial killer and she's a cop to the core who's conditioned to getting to the truth. She may not have seen what was right in front of her before, but her eyes are open now. So without going into the details of what happens after Deb finds Dexter with Travis, I'll just say that if you think Dexter's going to be able to lie his way out of this, think again.
Deb and Dexter's relationship is about as complicated as it can get for two siblings. They think they know each other, but we know otherwise. Deb learning about Dexter's secret is a major game-changer for the show, and given that the series had started to show its age in recent years, it's probably about time to explore this avenue. Not since Rita's death has something changed so drastically in Dexter's life, so it's going to be very exciting to see how this affects the series as much as how it will affect Deb and Dexter's relationship. From the first few episodes, the start of this transition feels true to the show and the characters. What is clear is that things have changed, and Deb isn't the only person who Dexter needs to worry about. That last part is a major hint, but I'm not naming names ("names" intentionally pluralized – another hint!)
Season 6's Doomsday killer arc got going early on. With Dexter and Deb's situation needing to be addressed, the seventh season's big crime arc doesn't really blow up in the first few episodes, but there is a situation involving some kind of organized crime that appears to be a budding issue and could be this seasons big outside-threat/issue. And in Episode 3 ("Buck the System") Yvonne Strahovski's character is introduced. We really only get a one-scene introduction to her, but she and Dexter seem to spark right off the bat, so it'll be interesting to see where that goes.
Months may have gone by since Season 6 wrapped up, but the Season 7 premiere pulls us right back into the story. There's obviously some major tension from the start, and the first episode ends with a really great jaw-dropping moment. I never want to get my hopes up that this will be one of those really great seasons, and after a few episodes, it's still too soon to call, but things definitely get off to an interesting start, to say the least.