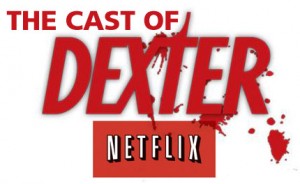 Where can we find the cast of Dexter?
We're still one long summer away from rejoining the cast of Dexter for Season 6. Michael C Hall and his talented group of co-stars will start filming the new season this month. While we're excited to find out what murder and mayhem Showtime will have in store for us, it's a miserably long wait for the Dexter devoted.
Perhaps you've watched repeats of Dexter so many times now that you can mimic Masuka's laugh right on cue. You know exactly what sequence of four letter words are about to come out of Deb's potty mouth. You can recite the last words of Trinity before Dexter sends him to his maker. You have Venus by Frankie Avalon on repeat on your iPod. And you can probably, by now, do a perfect impression of Rita's lifeless, dead eyes in the blood-filled bathtub. By now, you've done it all, and you're so bored that you almost wish Lila was back. Okay, I said almost.
While you probably spend much time of your day pining away and pondering the possibilities as to what lies ahead for Dexter Season 6, it hasn't even crossed your muddled mind, that the very talented cast of Dexter have actually appeared in other projects, … movies even. So while it may not feel quite the same to see the likes of James Remar playing a living character, it's time much better spent than the hours you stand in front of the mirror trying to perfect your Dexter killing face.
The cast members of Dexter have collectively been in MANY TV shows, movies and other projects. However, in the interest of providing you with an instant fix, I will be highlighting only films that are streaming on Netflix right this second. If you don't have Netflix, you should. I've been a customer for many years now and they never let me down in my moment of entertainment need!
The Cast of Dexter on Netflix
Sadly, there are a few regular cast members that don't currently have any films streaming on Netflix. We are deprived of the enjoyable likes of CS Lee, as well as Christina Robinson. However, James Remar fans may rejoice at the many streaming selections  available. Also, although Julie Benz is no longer on the show, her contribution for the many years as Rita earns her a spot in this quality collection.
---
Michael C Hall Movies
Gamer (Citizen Game) (2009) – It's 2034, and humans can control and kill each other in a large-scale online gaming world. But Kable (Gerard Butler), a wrongfully convicted soldier forced to join the violent competition, tries to free himself by taking out its evil architect, Ken (Michael C. Hall). While being controlled by a rich kid (Logan Lerman), Kable must also save his wife, Angie (Amber Valletta), who's trapped in her own avatar world.
---
Jennifer Carpenter Movies
Battle in Seattle (2007) – With the World Trade Organization about to convene in his city, Seattle's Mayor Jim Tobin (Ray Liotta) tries to make sure all events go smoothly. As tensions between protestors and authorities rise out of control, activists and bystanders get caught in the crossfire. Based on the 1999 protest referred to as the "Battle of Seattle," this drama features Charlize Theron, Woody Harrelson, André Benjamin, Connie Nielsen and Michelle Rodriguez.
Grayson Arms (Lethal Eviction) (2005) – When residents of a rent-controlled apartment building begin to die off after a new landlord appears on the scene, the authorities immediately finger the new owner, Amanda Winters, as the prime suspect. But even though Amanda's made no bones about wanting the old, lower-paying tenants gone, would she really resort to murder? Judd Nelson, Jennifer Carpenter ("Dexter") and Stacey Dash star in this horror thriller.
Beyond the Ashes (2005) – Jim Hersheider directs this poignant portrait of New Yorkers in a post-Sept. 11 world. Liz (Janeane Garofalo) has been a shut-in since she watched the planes fly by her window that fateful day, but street poet Karl (Giancarlo Esposito) is intent on drawing her out. Meanwhile, Judy (Nikki Hansen) takes refuge from her past and her husband (Tony Goldwyn) in a local bar, and Samantha (Jennifer Carpenter), the bartender, harbors secrets of her own.
---
James Remar Movies
Gun (2010) – When Rich (Curtis "50 Cent" Jackson) is part of a gun exchange that goes haywire, Angel (Val Kilmer) saves his life and from there, the two contend with the Detroit Police as well as the feds, who have now made guns and violence their priority. AnnaLynne McCord plays Angel's gal pal, Gabriella; 50 Cent writes and stars in this actioner that observes the life of a gun as it passes from one stage to the next: manufacturer, distributor and user.
Hubert Selby Jr.: It'll Be Better Tomorrow (2006) – This documentary chronicles the fascinating life story of influential American writer Hubert Selby Jr., author of such books as Last Exit to Brooklyn and Requiem for a Dream. Follow Selby's ups and downs from his years of heroin addiction to the critical and financial success of his first book. Celebrity guests such as Lou Reed, Henry Rollins, Ellen Burstyn and Darren Aronofsky share personal stories and reflections on Selby's work and influence.
Lady Jayne: Killer(Betrayal) (2002) – Jayne Ferre (Julie Dupage) is a professional assassin who makes her living murdering for the mob. But when one of her hits goes wrong, Jayne knows her own days may be numbered. She tries to skip town with the mob hot on her high heels, hitching a ride with a mother and her teenage son. But the perfect cover might not be camouflage enough with the mob — and now the cops — on Jayne's trail.
Blowback (2000) – Inspector Don Morrell (Mario Van Peebles), a former seminarian, had used his religious training to help catch serial killer Claude Whitman (James Remar). But now, Whitman has been released into a CIA-backed program to work as a hired gun for the government. With his taste for blood renewed, he escapes his new position and embarks on a murderous spree. Only Morrell can stop him.
The Base 2: Guilty as Charged (2000) – Antonio Sabato Jr. stars in this action-packed thriller as Lt. John Murphy, an undercover Army operative who takes on a delicate mission to investigate the mysterious disappearance of dozens of new recruits. What he discovers is a clandestine system of military justice in which tried and convicted (though largely innocent) soldiers are forced to act as gladiators in a lethal hunting game. Duane Davis and James Remar co-star.
Rites of Passage (1999) – After being thrown together by chance in a remote mountain cabin, a philandering attorney (Dean Stockwell) and his two sons (Jason Behr and Robert Keith) discover they're being hunted by a deranged psychopath (James Remar) who wants to get his hands on buried treasure. Can this emotionally fractured family, once at odds, put their differences aside to keep the maniac from taking more than he came for?
The Quest (1996) – Action hero Jean-Claude Van Damme directed himself in the role of Chris Dubois, a 1920s New York City street criminal who's kidnapped by gun smugglers, then sold to pirate captain Lord Dobbs (Roger Moore). He eventually hands Dubois over to master kickboxer Khao (Aki Aleong), who discovers Dubois' excellent fighting skills and forces him to participate in a legendary Tibetan competition where one wrong move could cost him his life.
Miracle on 34th Street (1994) – From director Les Mayfield, this remake of the perennial classic stays true to the beloved original. Dorey Walker (Elizabeth Perkins) and her young daughter Susan (Mara Wilson) are much too sensible to believe in anything as far-fetched as Santa Claus. But when a department store Santa named Kris Kringle (Richard Attenborough) claims he's the real thing, mother and daughter are given a special holiday gift: a renewed faith in magic and miracles.
Blink (1994) – Blind since she was a child, Emma Brody (Madeleine Stowe) gets the gift of sight when a dead woman's eyes are donated to her. But her vision is still a bit blurry right after the operation, and while she's getting accustomed to her new eyes, Emma witnesses a brutal murder at night and must sort out the details using her other senses. Aidan Quinn co-stars as the detective who helps her. Michael Apted directs this edge-of-your-seat thriller.
Across the Moon (1994) – Looking to start life anew, two disparate women — Carmen (Elizabeth Peña) and Kathy (Christina Applegate) — leave Los Angeles behind to be near their boyfriends (Peter Berg and Tony Fields), who are serving time in a Mojave Desert prison. Kathy and Carmen share a tumbledown trailer owned by a slimy defense attorney and struggle financially as they await their men's release. How will the ladies survive when authorities seize their home?
Fatal Charm (1990) – Valerie's (Amanda Peterson) prosecutor mom is trying to put away Adam (Christopher Atkins), an alleged serial killer on trial for murdering six women. But he's so charming that the teenage Valerie just can't believe he really did it, and soon they begin sending each other letters. Adam is caught up in a jailbreak and ends up on the run. He turns to the only person who believes he's innocent — but can Valerie really trust the accused killer?
The Cotton Club (1984) – Richard Gere plays his own cornet solos in Francis Ford Coppola's story of a jazz musician at the titular 1930s legendary nightclub. When Dixie Dwyer (Gere) saves the life of mobster Dutch Schultz (James Remar), he finds he must fight for his own life when he falls for the psychotic gangster's moll. Coppola and his Godfather co-writers Mario Puzo and William Kennedy combine musical performances with a classic mobster story.
---
Lauren Velez Movies
The Prince of Central Park (1999) – Tired of the abuse heaped on him by his foster mother (Cathy Moriarty), J.J. Somerled (Frank Nasso) flees to New York City's Central Park determined to make the metropolitan woodland his home. As J.J. continues to dream of reuniting with his birth mother, he finds himself amongst a world of bizarre characters led by an intimidating oddball dubbed the Guardian (Harvey Keitel). The strong supporting cast includes Kathleen Turner and Danny Aiell
---
David Zayas Movies
Wake (2009) – In this quirky comedy, emotionally detached Carys Reitman (Bijou Phillips) has an unusual way of trying to connect with people when she's down in the dumps: She ventures to a nearby mortuary to attend the funerals of strangers. But after she meets handsome Tyler (Ian Somerhalder) — at his fiancée's memorial service — Carys finds herself developing feelings for a living person for the first time. Jane Seymour plays Carys' estranged mother.
Brooklyn Bound (2005) – Hit with a mother lode of troubles, drug dealer Sean (Tommy Guiffre) decides to pull off one final score so he can make things right, then leave the streets for good. Things can't get any worse for Sean — his girlfriend (Nicole Arlyn) leaves him, his mother (Christie Sanford) becomes seriously ill, and his best friend is hunted by loan sharks. When his impressionable little brother is arrested, Sean realizes it's up to him to save the day.
---
Desmond Harrington Movies
Not Since You (2009) – Formerly close college friends reunite for a weekend wedding, and old feelings arise, causing both conflicts and romantic dilemmas. Married Amy (Kathleen Robertson) finds herself torn when her old love, Sam (Desmond Harrington), appears after years abroad. Meanwhile, Howard (Jon Abrahams) tries to forgive Billy (Will Estes) for stealing his college sweetheart (Sunny Mabrey), while dispirited Fudge and Southern girl Doogs form a tenuous bond.
Love Object (2004) – This horror movie follows introverted technical writer Kenneth (Desmond Harrington), who can't bring himself to reveal his feelings for co-worker Lisa (Melissa Sagemiller). Attempting to get over his fear, he purchases a realistic doll named Nikki that looks like Lisa and eventually works up the nerve to talk to his dream girl. Unfortunately, the doll soon becomes jealous of Kenneth's affection for Lisa and reveals her violent tendencies.
---
Preston Bailey Movies
The Crazies (2009) – When a plane crashes in a small town, a secret biological weapon is released. As the toxic substance infiltrates the local water system, some residents become gravely ill, while others descend into homicidal madness. Sheriff David Dutton (Timothy Olyphant) attempts to set things straight, but soon the military becomes involved in containing the killer virus. Breck Eisner directs this chilling remake of George A. Romero's 1973 horror classic.
Nothing but the Truth (2008) – Journalist Rachel Armstrong (Kate Beckinsale) turns Washington on its ear when she outs a casual acquaintance (Vera Farmiga) as a CIA agent. The government's formidable prosecutor (Matt Dillon) sends Rachel to jail for contempt, where she discovers the true impact of her decision. David Schwimmer and Alan Alda co-star in this drama from Rod Lurie, the politically savvy filmmaker behind The Contender and "Commander in Chief."
Amusement (2008) – While being interrogated by a police psychiatrist, the near-catatonic Tabitha (Katheryn Winnick) tries to explain why she and two of her childhood friends (Laura Breckenridge and Jessica Lucas) are being hunted by a serial killer. The truth that's dying to come out weaves together three tragic secrets from their past. Keir O'Donnell and Tad Hilgenbrinck co-star as two of the girls' boyfriends who become unwitting targets in their deadly game.
---
Julie Benz Movies
The Boondock Saints II: All Saints Day (2009) – Skillfully framed by an unknown enemy for the murder of a priest, wanted vigilante MacManus brothers Murphy (Norman Reedus) and Connor (Sean Patrick Flanery) must come out of hiding on a sheep farm in Ireland to fight for justice in Boston. Joining them in writer-director Troy Duffy's long-awaited sequel is Romeo (Clifton Collins Jr.). Julie Benz plays FBI Special Agent Eunice Bloom, and Peter Fonda and Billy Connolly also co-star.
Bad Girls from Valley High (2005) – The spirit of Heathers and Mean Girls mingles with the supernatural in this tale about three Valley High girls who rule the school via their wealth, social status and their harboring of a dark secret. Strange things are afoot when a new student arrives and the three bad girls begin to age rapidly. Could the new girl have something to do with the unspeakable act the trio committed a year ago? Julie Benz, Janet Leigh and Christopher Lloyd star.
The Long Shot (2004) – After a series of misfortunes, including the breakup of her marriage and her sister's tragic death, aspiring equestrian Annie Garrett (Julie Benz) pulls up stakes and moves to Colorado with her young daughter. Finding a job at a stable, Annie has hopes of winning a high-stakes riding competition to help bankroll her new life. But can she overcome her emotional burdens and find the strength to succeed? Marsha Mason co-stars in this moving drama.
Shriek If You Know What I Did Last Friday the 13th (2000) – It's Friday the 13th in Bulemia Falls and — due to the mayor's dyslexia — it's Halloween night as well. To make matters worse, a masked slasher is stalking the teens of BF High. Because the murderer is wearing a costume stolen under his watch, mall cop Doughy (Tom Arnold) is determined to get to the bottom of the killings. With the help of a cable video jockey (Tiffani-Amber Thiessen), Doughy hunts the hunter in this goofy horror spoof.
Dirt Merchant (1998) – Kurt "Dirt" Merchant dreams of a career in the music business. But when he stumbles upon the dead body of a famous rock star, Dirt ends up being framed for the murder. Dark humor, sex, drugs, rock 'n' roll and a cast featuring brat-packer Anthony Michael Hall, David Faustino ("Married with Children"), Danny Masterson ("That '70s Show") and porn star Jenna Jameson make Dirt Merchant a favorite guilty pleasure.
I have not seen all of these films, just a handful, but I look forward to seeing the talented cast of Dexter in their many varying movie roles. Any comments or recommendations as to those who've seen the films listed here, are welcome!