Beware: Spoilers!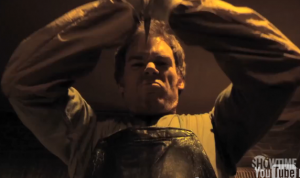 The finale of Dexter Season 5 aired tonight. Like many of you, I waited in major anticipation as to what what would happen. At the end of last week's episode, they aired the finale preview. That one single preview was perhaps more of an "OMG" moment than the entire episode, as it showed Deb catching Dexter and Lumen RED handed at the scene of the crime. Now, we already know that Dexter somehow always finds his way out of the most impossible situations, and while I believed it would be the case that he would evade official "capture", the preview scene really had me thinking "Deb CAUGHT Dexter", there is NO way out of that one for him. While that was not an exciting thought in terms of Dexter's possible loss of freedom and the state putting a needle in his arm, I came to the conclusion that maybe it really was time for his sister to know about Dexter's dark passenger.
I had also come to enjoy Dexter having a true partner in crime, aka Lumen. It took a while to warm up to her character. After all, she wasn't exactly warm and fuzzy after barely escaping Boyd's evil plans to dispose of her in a barrel.  But in the end, I was liking how their relationship grew; from two people immersed for their own reasons, in the darkness of Boyd Fowler's world, to the odd but dynamic duo they were becoming.
We watched as Dexter rescued her from her imprisoned death chamber, the battle of right and wrong storming within him, deciding whether to either forever silence her and add her to his blood slide collection, or in a moment of blind trust, let her go. The stages of their complexity deepened as Dexter tried in vain to send her out of Miami and ultimately out of his life, to their ultimate teaming up and joining forces as she slowly became his dark protege, his sinister student, all in the name of bringing the evil of Jordan Chase and friends to a bloody end. And in the end, we saw a new Dexter emerge, with a sense of feeling human and accepted.
For those reasons, I was not happy to see her just walk away, her own dark passenger having faded away. The scene of Dexter throwing the plate and sinking to the floor in what appeared to be full, raw, human emotion, was perhaps the first we've ever seen of Dexter's heart being truly broken.
Out of all the people he's crossed paths with that had a glimpse into his urges and needs, Rudy, Lila, Miguel, Trinity, Lumen was the innocent victim and unlikely partner in crime. And of course unlike them, did NOT end up taking a way one trip on Dexter's boat!
'Don't be sorry your darkness is gone. I'll carry it for you. Always. I'll keep it with mine,'
So, while I do love the way they left next season open to any and all wild possibilities, I am somewhat disappointed that the Lumen chapter is over, and in some really odd way, I'm a little let down that Deb remains in the dark about her brother's truth.
All that said, I have no doubt that Season 6 will bring even more suspense, surprises and delicious new plot twists than we can begin to imagine.
For those who have not yet seen the season finale, here is the preview!