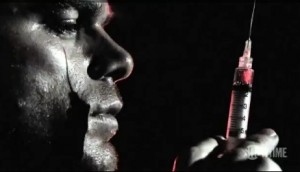 Showtime has just released a teaser for Dexter Season 6. And when they say "teaser", they mean it. The show starts filming again this month so I understand there are no sneak-peek goodies they can reveal, but I admit to being a little perplexed by the teaser.
It basically highlights a few of the important moments of the show, including The Ice Truck Killer, Miguel Prado, and of course, Trinity. Rudy aka Ice Truck Killer, makes sense to me. This was a pivotal plot on which so much of Dexter's psychology is based. The Trinity Killer changed Dexter's entire world when he murdered Rita and left Dexter's son in the very similar blood bath as the birth of his own Dark Passenger. But, Miguel Prado? Really? Seriously? I don't get it.
Don't get me wrong, it was a solid storyline and Jimmy Smits played a fantastic villain. However, I don't see why they would choose to showcase that particular chapter in Dexter's life, compared to this last season. Granted, you probably either loved or hated Dexter Season 5, but I believe it played an important role. After all, Lumen is still walking around (aka alive) knowing Dexter's secret. It was also vital to see how Dexter was going to cope with the loss of his wife and mother of his child. Even Lila, as despicable as she was, played a more significant role in Dexter's good vs. evil evolution, than the dearly departed and dismembered D.A.
However, I do have faith that Showtime and the Dexter writers know what they are doing. It's been said that this new season will focus a lot on Dexter's relationship with his sister, Deb, who almost found out his secret last season. They've also revealed that three new characters will join Dexter Season 6, including one that may be a love interest. I tend to think this Dexter Season 6 teaser is just a little bit of hype, a niblet to satisfy our Dexter taste buds until the show returns this fall. We are, however, grateful for the bite!
Watch the
Dexter Season 6

Teaser

httpv://www.youtube.com/watch?v=PVApgr1Mqto&feature=player_embedded#at=40